Welcome to Journey Through the Galaxy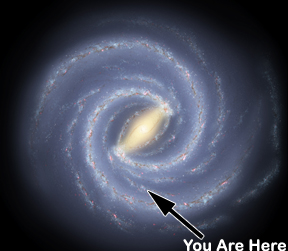 This is a "mini-net" of pages that explores our solar system, stars, extra-solar planets, the theories about the past and future of the universe, and human exploration of space.
This website is geared towards Middle School, High School, and Non-Astronomy-Major College students. The text assumes readers know what an atom is and can understand algebra. There is some advanced math, but understanding the website does not rely upon the math.
To browse this site, choose a section from the ribbon at the top of the page. The "Home" button will take you back to this page, but if you hold your mouse over it other options will appear, including the Search feature, Site Map, and Feedback form.
This site can roughly be understood in terms of "What We Know," and "How We Know What We Know." The former involves the following sections:
The "Solar System" section takes you through the star, planets, moons, and other objects that make up our solar system, along with how we think our solar system formed.
"Stars" discusses different types of stars, their lifecycles, and exotic forms of dead stars including neutron stars and black holes.
"Exoplanets" talks about the relatively new field of extra-solar planet research - how we detect them and what we know about them. This section is fairly lean in the "Basic" version of the site, but it is filled with graphs if you go to the "Advanced" version.
"Cosmos" is a broad overview of our own galaxy, our place in the expanding universe, how we believe the universe formed and evolved, and how it might "die."
The last two sections of the site, "Exploration" and "Extras" are geared more along the lines of "How We Know What We Know:"
The "Exploration" section contains enough information to be its own website (and it once was). This talks about human understanding of the universe throughout history and, more recently, it lists and talks about almost all of the space missions that have taken place to visit and explore our solar system and beyond.
Finally, "Extras" contains "extra" information that doesn't really fit in with the rest of how the site is organized. One of the most important sections of this part is the "Foundations of Astronomy" that includes a few basic pages that are important to understanding modern astronomy but don't particularly fit elsewhere in the site. In addition, there is an astronomy glossary, the legal stuff, and a small page about the authors.
You are visitor number
since May 21, 2001.
---
Browser Requirements: You must have JavaScript enabled to properly view this site. Please also ensure that you have the most recent version of your browser installed. The following table illustrates the browsers that this website has been tested on.